ABOUT:

Eureka Editions
Beryl Pogson
Maurice Nicoll

About Beryl Pogson
Beryl Pogson was a pupil of Dr.Maurice Nicoll for nineteen years and his secretary for fourteen years and was one of small group who lived with him and Mrs. Nicoll at the houses where The Work was carried on: Tyeponds, Birdlip, Quaremead and Great Amwell House.
Many of her writings have been published only privately for the benefit of her students and groups. Now for the first time much of her Teaching has been republished and is now more widely known.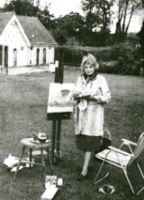 Beryl Pogson taught that the aim of all religion is to change man's level of Being and to teach him to live according to his own divinely ordained nature. Every religion has an inner teaching which is basically the same, through which man can seek to reach his highest destiny. This teaching is periodically renewed throughout the ages. Efforts are made to awaken man through the coming of great teachers, by the lives of holy men and women and the work of artists, writers, and musicians - many of whom came under the influence of esoteric schools in all lands and at all periods up to the present day. Practical Work Teaching was always given.
Beryl Pogson had a sense of urgency about The Work and an inner certainty of what she should do. She always sought to form a group into a focus of reality which could be used by a higher power. We saw our task, firstly in the continuing need to work on ourselves individually, secondly through sharing with the group at meetings and in our gatherings and activities - to make life our teacher and thirdly to relate our efforts to the work of Conscious Humanity.
During the last ten years of her life she was taking as many as six Group meetings a week, and daily meetings during sessions at The Dicker, Sussex. These were quite informal lectures followed by questions, but quite often she would ask for a question at the beginning and a discussion would take its course from the question asked. She often made connections between The Work and sacred books, literature, plays and poetry as will be seen in these books. At the meeting there were members of her group who were from different backgrounds and different stages of The Work yet with a unity of purpose. Her Work teaching was based on The Psychological Commentaries on the Teachings of G.I.Gurdjieff and P.D.Ouspensky by Maurice Nicoll, and of course, from G.I.Gurdjieff's and P.D.Ouspensky's own writings.
POGSON,Beryl The Work Life Based on Teachings of G.I.Gurdjieff, P.D.Ouspensky and Maurice Nicoll -- Eureka Editions 2006 NEW! Large format paperback, limited edition of 100 copies.
"The Work" is about applying what you know to your daily activities, rather than simply theorizing about abstract ideas of life. The author lived "the work life" and studied with Maurice Nicoll for almost two decades, beginning to teach a group at his request in 1955. The group had residential meetings at Dorton House, and it was there that people had a chance to experiment with what they learned. A level of community developed: group projects included painting a mural, building a summer house, and making a glass mosaic of the zodiac -- all activities designed to bring out various talents in the group. It was a great opportunity for learning! This record of "the Work" has been published to help modern students understand how the teachings of Gurdjieff, Nicoll and Ouspensky can be actualized.
© Eureka Editions 2009